Stainless Steel Cock Ring Barb Wire Design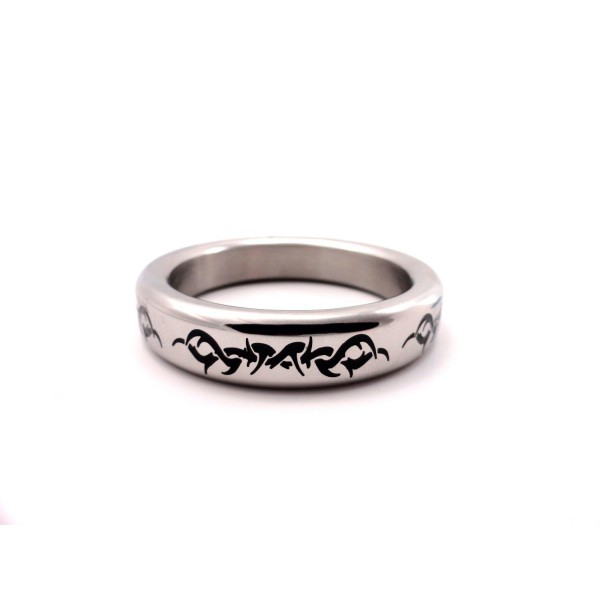 Description
This designer highly polished stainless steel cock ring is among the finest quality available in the world. Designed to be worn around the penis and testicles and to restrict blood flow into the penis, this luxurious, designer stainless steel cock ring with Barb Wire inlaid design will deliver a firmer erection while offering increased intensity and heightened arousal ... not to mention your penis will look amazing!
Made by skilled jewelry makers, each stunning ring is hand tooled and is perfectly seamless. The inner edges of this cock ring is rounded for a more comfortable fit.
This premium cock ring jewelry is made from solid stainless steel, perfectly smooth, flat on the inside edge and highly polished. The inlaid continuous Barb Wire design covers the entire ring.
Completely seamless and easy to clean, this c-ring is presented in a protective velvet drawstring pouch. For a proper fit, the ring should be loose enough to put on and remove easily, but snug enough to restrict blood flow when the penis is erect.
Design: Barb Wire pattern repeats 4 times
Material: 100% Polished Stainless Steel
Inside Size Diameters: 1.75" and 2". (Also available in 1.87" via Special Order - please allow 2 weeks to ship)
Weight: 4 oz.
Width: 1/2"
Velvet Storage Pouch Included
Quality craftsmanship
Note: Usually ships the next business day; if the item is out of stock at the time the order is received, then the item will ship in 2 weeks or earlier and you will be notified.